As though filing your income taxes isn't stressful enough, the thought of having an IRS audit could cause a "nervous breakdown"!
There are those that are unlucky and get targeted for an IRS audit, but the chances are pretty slim. 
For the past three years, less than 1% of filers have been audited. In 2014, only 0.86% of total tax returns made the dreaded audit list. Do you know why? It's because of the IRS budget cuts and an increase in individual federal returns filed.
However, the IRS just might pick you for an audit! Minimize those chances by paying attention to these 4 items:
 

Making too much money

– Say What? In 2014, those making $200,000 or more had a 2.71% (1 in 37!) chance of being audited. If you made less than $200,000, your chances went down to .78% (1 in 128). (Make as much as you can, be honest and keep good records – that's our advice!)

Failing to report income

– Whether it was a mistake when writing down the correct amount from your W2 or you forgot to include a couple of your 1099s, failing to properly report your income is a good way to end up in audit-land! The IRS gets copies of all W2s and 1099s and they make sure your records match.

Reporting too much on a Schedule C

– This is for those self-employed or running a small business. Don't go overboard on claiming deductions  Make sure all "business meals" and other expenses are 100% legitimate.

Giving to charity

– If what you're deducting seems overly disproportionate to your income, you will raise a "red flag." Also, if your non-cash donations exceeds $500, you need to file Form 8283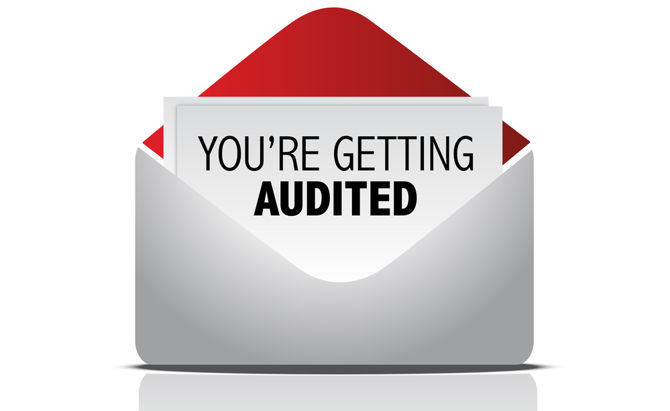 Don't panic if you are picked for an audit. Most of the time you just need to provide additional documentation to support the amounts on your return.
The good news – in 2014, the IRS found that over 38,000 individual filers had paid too much in taxes and sent them refunds! But, don't count on that happening.
Remember – It could happen to you, but it probably won't. Limit your deductions to legitimate ones to avoid an IRS audit!